2018 Catalog: Mesa Auction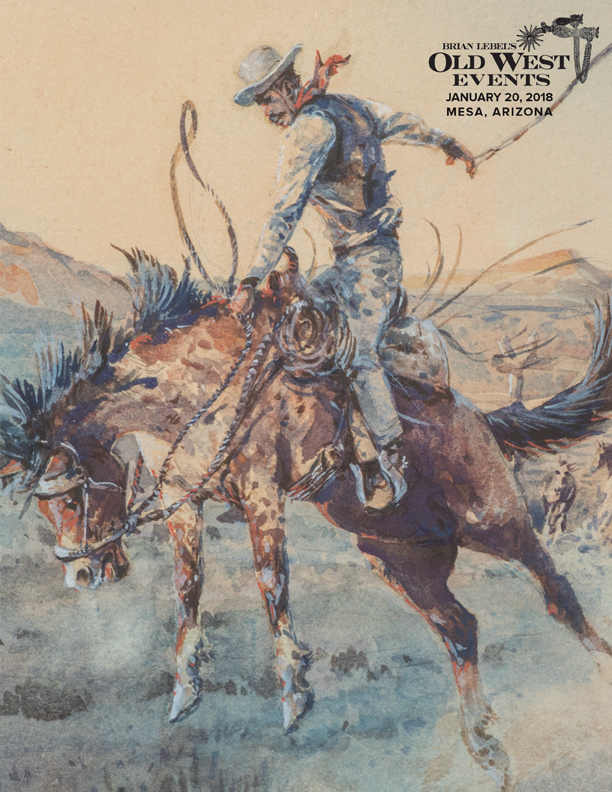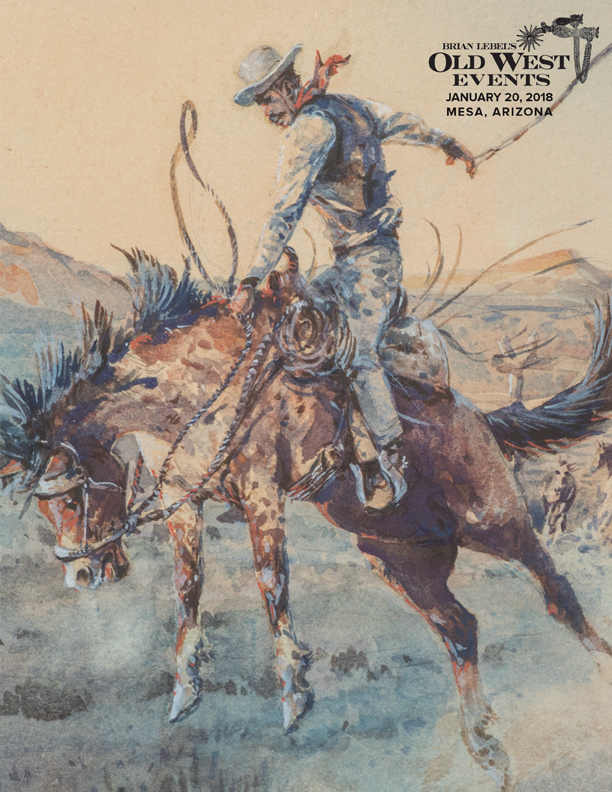 sold out
2018 Catalog: Mesa Auction
Brian Lebel's Old West Events Auction Catalog for the January 20, 2018 auction, held in Mesa Arizona.
The 28th Annual Mesa Auction.
HIGHLIGHTS
Cowboy: Collection of Duff Severe Salesman Sample-Size Display Saddles as well as a Collection of Hide and Rawhide Braided Decanters by Duff Severe; Jesus Tapia Filigreed Spurs and Bit; Bob Tanner's Personal Edward H. Bohlin Dickson Parade Ensemble; 2 x Saddles by Chuck Stormes (TCAA); Parade Saddle by Kahle & Son; 2 x Keyston Bros. Parade Saddle Sets; Gene Rambo's 1948 Cheyenne Frontier Days Trophies; Engraved Winchester Model 1866 SRC; L.D. Stone & Co. San Francisco Spurs; Tom Qualey Spurs; Edward H. Bohlin Parade Spurs and Boots; A Fine Collection of Luis B. Ortega Braided Piece; Don Ellis "Palomino" Buckle and Belt; Mark Dahl TCAA Card Suit Bit.
Native American: Important Apache Outfit Property of Asa Daklugie; Lakota Sioux Beaded Cradleboard; Ulysses S. Grant Peace Medal, Lakota Sioux Beaded and Fringed Dress; Central Plains Beaded Rifle Scabbard; Southern Plains Dance Shield.
Artwork: Edward Borein; Terri Kelly Moyers; John Moyers; Will James; Eric Michaels; William Gollings.
Other notable lots: Edward H. Bohlin "P.K. Wrigley" Sterling Telephone; 19th Century Carved Wood Calliope Figure; olt Single Action used by James Arness in the award winning television series "Gunsmoke"; Three Volume Set of McKenney and Hall's famous, "History of the Indian Tribes of North America".
Plus, items from the Chladiuk Museum Collection: L.D. Stone Salesman's Sample-Size Saddle; Important Moran Bros. Display Saddle; A Fine Silver Mounted Maximilian Period Charro Saddle and a Fancy Pearl Inlaid Mexican Saddle with Spurs.