2012 Catalog: High Noon Auction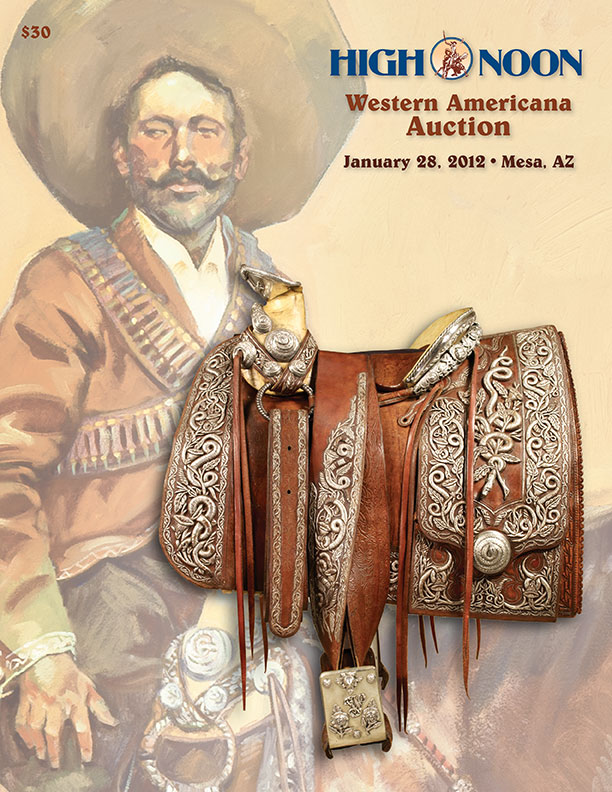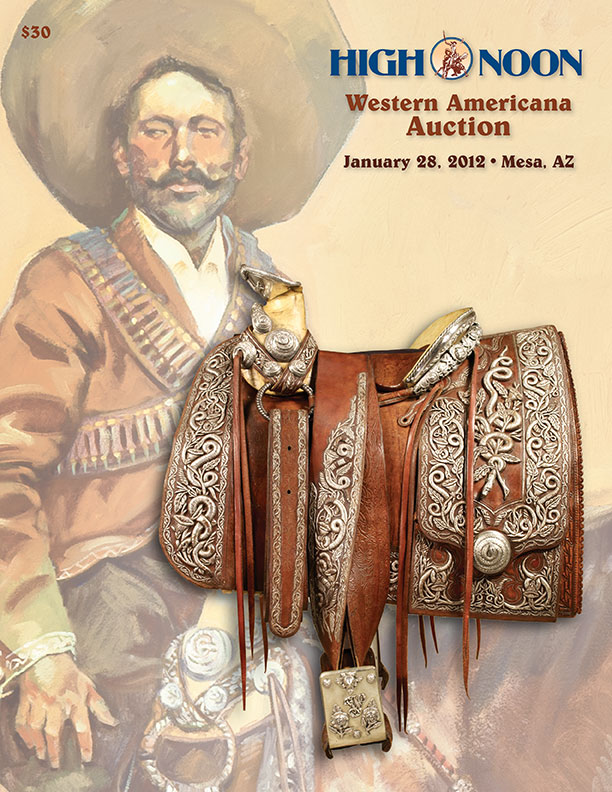 2012 Catalog: High Noon Auction
High Noon Auction Catalog. January 28, 2012 - Mesa, AZ.
High Noon's 22nd Annual Auction of cowboy, Indian, Vaquero, Historical, Hollywood and important items of the West. Included are pieces from historically important PANCHO VILLA and from the Spanish Land Grant YORBA LINDA family.
In the American Indian category the highlight is 1870s Arapaho dress, Lakota/Sioux belt ax and Sioux child's pictorial beaded vest, Southern Cheyenne beaded shirt, Sioux beaded cradle, Crow mirror bag, Sioux beaded dress, Navajo Germantown third phase wearing blanket, Plateau beaded blanket strip, 1850s-60s Shoshone dress and a Navajo pictorial weaving.
In Fine Art, an exceptional Edward Borein watercolor and John Moyer's oil depiction of Pancho Villa. Plus works by Frank McCarthy, Frank Hoffman, Dave Powell, Howard Post, Eric Michaels, L. A. Huffman and W. H. D. Koerner.
The most diverse array of Edward H Bohlin pieces: Saddles (models include the Lee Douglas, and the Dick Dickson Jr.) martingales, bits, spurs, bridles, vests, gauntlets, gun rigs, buckles, watch, hatband. For the purist of Western collectors, there will be fine saddles, bits and spurs from Texas to California, a collection of chaps and posters and boots, including a Jesus Tapia bit and spurs, Montie Montana's personal Bohlin spurs and Zane Gray's saddle by N. Porter, a parlor gaming chest by the famed Udall and Ballou of New York, Sheriff James V. Parks presentation gold pocket watch, the very first Texas Brand Book, Ornate Mexican saddle, Tom Mix and Noah Beery's personal belts, Walla Walla Prison horsehair bridle, 1929 Hamley exhibition chaps and Molesworth style furniture by Lester Santos, 1890s Mexican gold beaver sombrero, Wells Fargo Express Wagon Baranger motion advertising display Rex Schnitger spurs, 1856 San Francisco Committee of Vigilance, and Luis B. Ortega reins.