2013 Catalog: High Noon Auction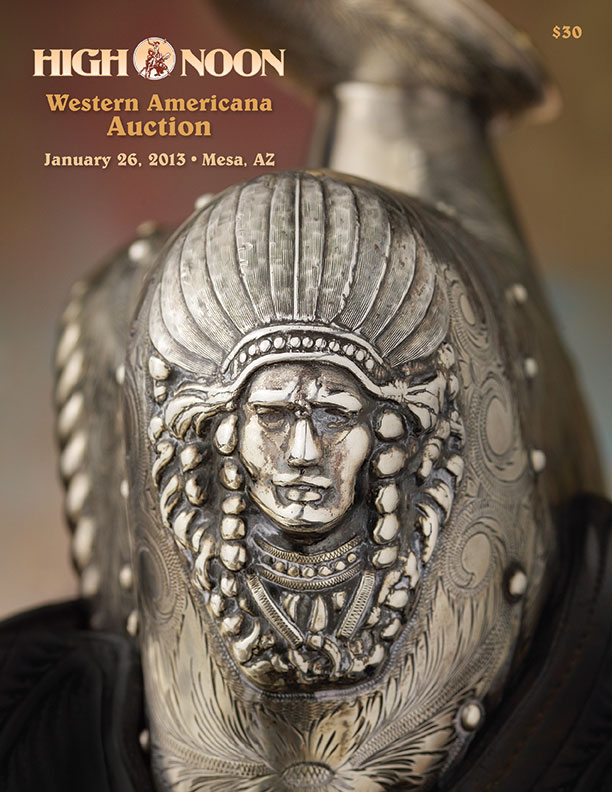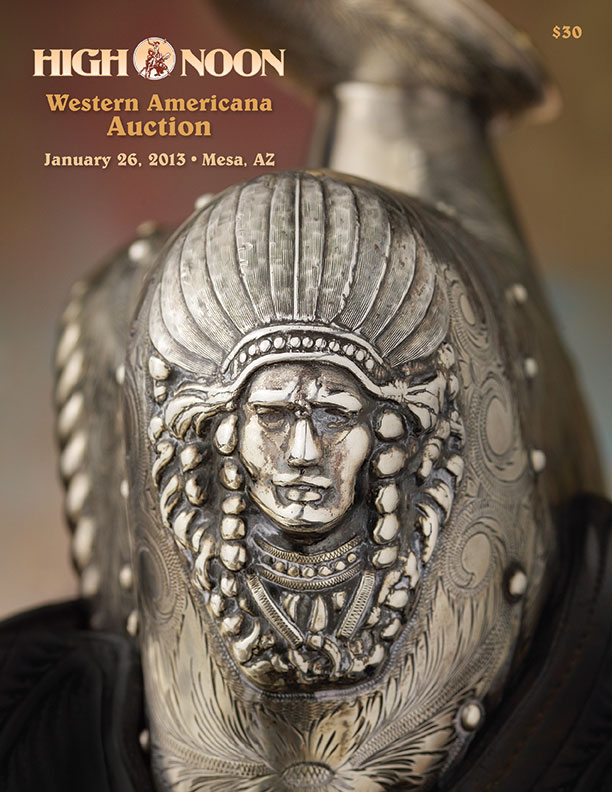 2013 Catalog: High Noon Auction
High Noon Auction Catalog. January 26, 2013 - Mesa, AZ.
High Noon's 23rd Annual Auction of cowboy, Indian, Vaquero, Historical, Hollywood and important items of the West.
A fine selection of saddles: Keyston Bros. Ute Cheiftan parade saddle, Edward Bohlin Cluster Special sterling silver parade saddle, Simon Bolivar saddle with accessories, 1920s Mexican dragon saddle with accessories, Nolte-Olsen Butterfly saddle, Main and Winchester saddle, Brydon Bros. saddle, Laurel model Edward Bohlin silver saddle, Yuma horsehair bridle, John Cox Canon City spurs, Olsen-Nolte silver and gold spurs, Escondido model Edward Bohlin silver saddle, Cole Saddle Co. paradle saddle and a Visalia Stock Saddle Company silver saddle
Other western items: Joseph C. Millers personal 101 Ranch Crockett spurs, Jose Figueroa spurs, jail truck built on a 1952 Chevy chassis, G. S. Garcia spurs, 14k gold and sterling spurs by Edward Bohlin, striking 1880s Mexican sombrero, Edward Bohlin parade chaps, early Mexican bridle with Charro bit, Edward Bohlin gun rig, 1820s-50s elegant Mexican Spurs, Edward Bohlin sterling silver Indian Chief bookends, Pancho Villa letter, Main and Winchester Cantenas, Jesus Tapia spurs and Wallie Boone spurs.
Native American: early Northern Plains tomahawk, Sioux man's shirts, spectacular quilled dag knife sheath, pictorial beaded vest, early Navajo serape, Teec Nos Pos pictorial weaving, Crow beaded and fringed rifle case and a Sioux fully beaded cradle.
Fine art by: William Gollings, Edward Borein, Charlie Dye, Frank Tenney Johnson, Joseph Henry Sharp, James Reynolds, Edward S. Curtis, Eric Michaels, William Henry Jackson (attributed), L. A. Huffman, Harry Jackson and Burt Procter.