2015 Catalog: High Noon Auction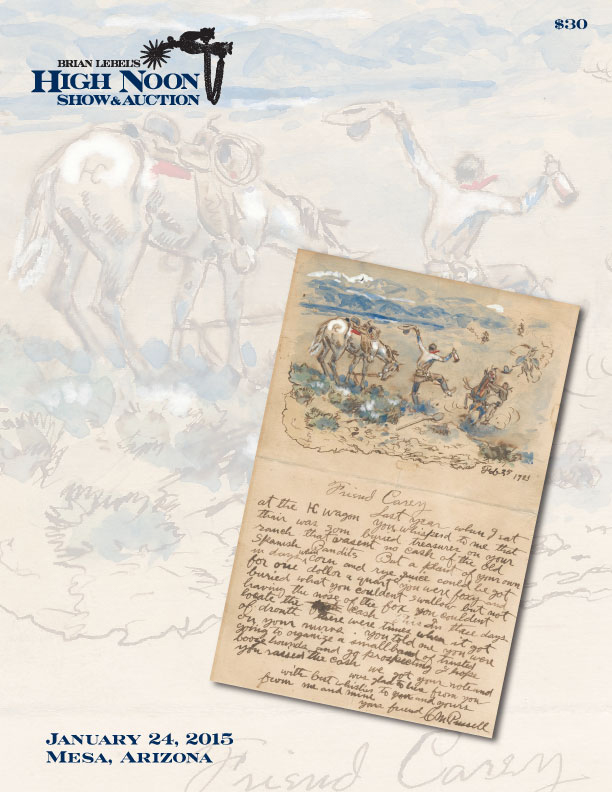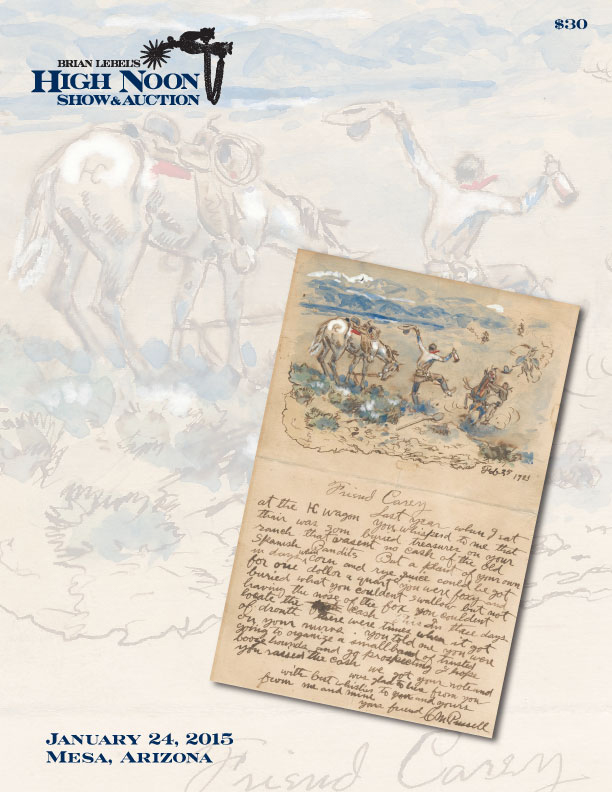 2015 Catalog: High Noon Auction
Brian Lebel's High Noon Auction Catalog, 2015
Tom Horn's Winchester from the estate of C. B. Irwin is among the highlights at Brian Lebel's High Noon Auction, January June 24, 5pm at the Phoenix Marriott Mesa (200 N. Centennial Way, Mesa, Arizona).
For the Western collectables aficionado we will be offering saddles, bits, spurs, chaps and firearms. Including an N. Porter silver and gold parade saddle with matching spurs, an Edward H. Bohlin "Lone Star" parade saddle, a regal 1890s Mexican silver saddle, Harry Carey's personal Bohlin zebra chaps, a 7th Cavalry Colt Single Action, the original Lincoln Saloon tin sign, a Demuth Zinc Cigar Store Indian, a Harry Rowell California parade saddle, a Gustav Dentzel Prancer carousel horse, Roy Roger's personal rodeo buckle and one of the most complete collection of antique poker chips.
Items from the C. B. Irwin estate include the gun that Tom Horn was carrying the night he was arrested for the murder of Willie Nickell, the legendary crime he may or may not have committed. As well as household items bearing the Y6 brand and Tijuana Cup trophy by Tiffany & Co (won in 1926 by Irwin's horse All Over).
This year will offer a rare chance to own important fine art including an illustrated letter from Charles Marion Russell to Harry Carey (pictured in Brian Dippie's book Charles M. Russell, Word Painter: Letters 1887-1926), Richard Amsel original advertising art for John Wayne's final film The Shootist, and works by James Reynolds, William Matthews, Ross Stefan, Raphael Lillywhite, Eric Michaels, John Moyers, Richard Bernhard Friese and others.
And rare Native American artifacts including a Comanche/Pueblo shield, Assiniboine men's beaded shirt, Cheyenne full-size beaded cradleboard, Sioux pictorial model Tipi, Assiniboine war bag, Blackfeet and Nez Perce war shirts, Kiowa boy's beaded outfit, Sioux beaded saddle cover, and Half Moon's (Nez Perce) Elk dewclaw necklace - Half Moon was photographed wearing this necklace by Edward Sheriff Curtis.
A full color catalog is available for purchase, and Internet, phone and absentee bidding are all available. The live auction is held in conjunction with Brian Lebel's High Noon Show, an expo-style sale with 150+ national dealers in Western antiques, art and merchandise.