2007 Catalog: Old West Auction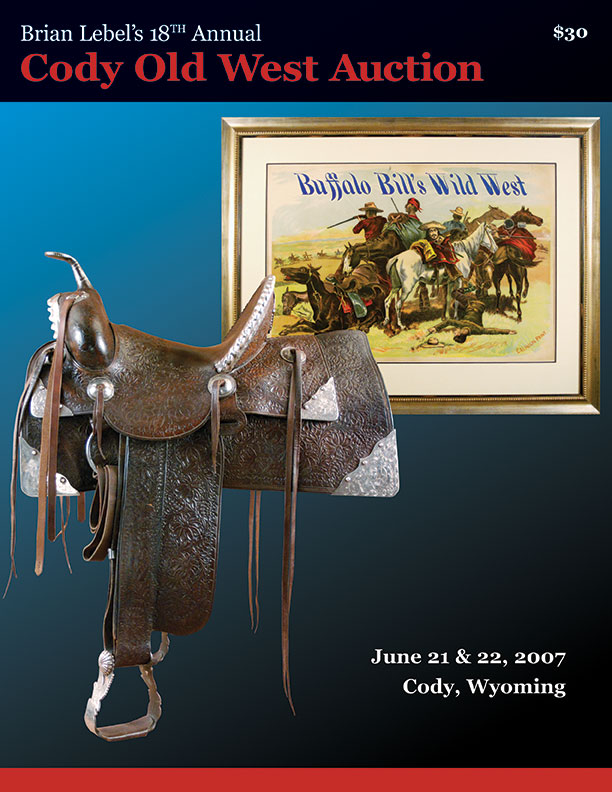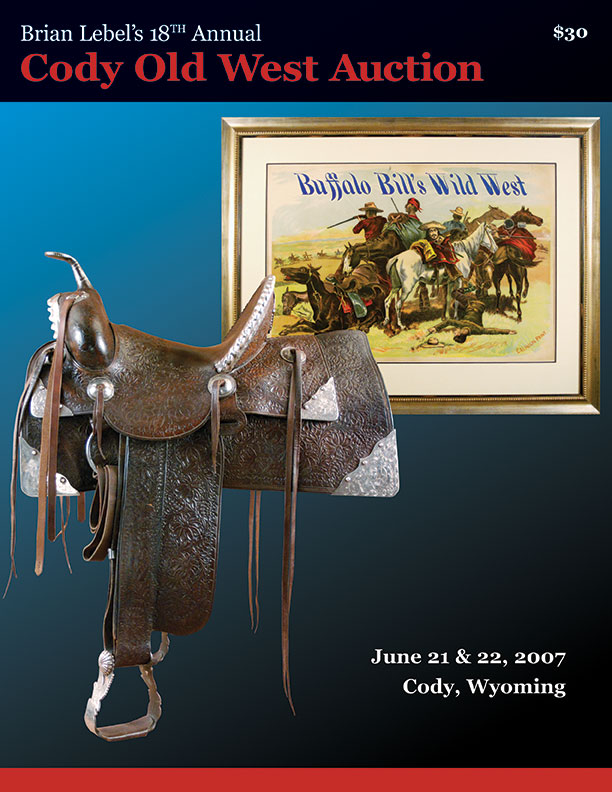 2007 Catalog: Old West Auction
Brian Lebel's Old West Auction Catalog. June 21-22, 2007 - Cody, WY.
Highlights include Gary Keithly rabbit spurs, Walt Goldsmith silver show saddle, a rare poncho style Sioux quilled man's shirt, Sioux beaded and quilled bridle, N. Porter show chaps, fabulous J. G. Read woolly chaps, 1917 Winchester calendar, Ingersoll Ranch trunk, Battle of Little Big Horn lithograph, important Boone Texas spurs, J. B. Mull spurs, extremely rare Edward Borein reata (Luis B. Ortega taught Borein the art of rawhide braiding), Sioux beaded cradle, Roy Rogers' first fringe shirt, Sammy Sisco boots and saddles, All Western Plastics Co. saddle, S. Loomis early California saddle, Al Furstnow silver saddle, G. S. Garcia bridle with Hernandez bit, true "Californio" Chaparejos, orange wooly serape style saddle bags with plateau beaded panels, Lakota Sioux beaded and quilled moccasins from John Painter collection, Heiser-Keyston Ute Cheiftain saddle, Snuff Garrett's Edward Bohlin Dick Dickson silver saddle, Luis B. Ortega rawhide, William T. Gustavsen (Gustavsen Saddlery) silver parade saddle, 101 Ranch and Buffalo Bill's Wild West Show posters, important G. S. Garcia silver saddle and double-gal leg spurs, Spanish Colonial single spur, 1900s Mexican snake spurs, Early Mexican saddle and accessories, 1880s Charros chaps, Northern Plains painted buffalo robe, Visalia spurs, Eddy Hulbert spurs, Qualey Bros. spurs, Rex Schnitger spurs, James Butler "Wild Bill" Hickok tintype or ferrotype, Molesworth furniture, Alfredo Campos American flag horsehair quirt and an extremely rare Phillips and Gutierrez marked headstall.
Artwork by Edward Borein, Frank McCarthy, Joe Beeler, Edgar Samuel Paxson, Nick Eggenhofer, Olaf Wieghorst, John Moyers, Josef Imhof, Don Easton, Frank Tenney Johnson, Harry Jackson, Dave Powell, Herman Hansen, Solon Hannibal Borglum, Will James plus early American photography by Edward Sheriff Curtis, Charles J. Belden and Carl Moon.
Native American beadwork, weavings, jewelry and Cowboy trappings including boots, saddles and spurs.